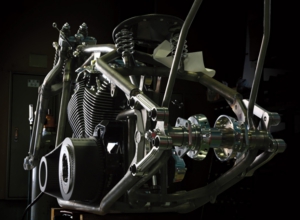 Autobahn quality obtained after two extremely intense years of work.

The Type 9's innovative rear multi-arm suspension brings the look of a rigid frame together with modern suspension technology. Though it may be hard to imagine from its classic appearance, this unique suspension system is more compact and efficient than most swing-arm suspensions, allowing for lossless traction and a smooth ride even under a heavy load. The Type 9 does not sacrifice vintage style for excessive accessories and brings polished traction performance and high speed stability.




The twin cam 1450cc specializes in high-speed touring.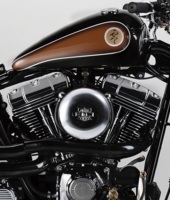 In recent years, there has been a constant quest for more power and performance, and this truly modern HD engine is a direct response. Available in up to 110 cubic inches, the Harley Davidson Twin Cam series of engines delivers reliable performance with larger displacements, allowing for effortless riding even at higher speeds and longer distances. The Type9i is a combination of this twin cam 88 cubic inch engine and the multi-arm suspension system, and this touring motorcycle allows the rider to endure longer adventures than would be comfortable with a more rigid cycle.


Persistence and technological innovation came together to create this unique suspension system.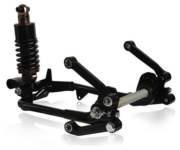 After most of his life's work was dedicated to Formula One, a forward-thinking engineer turned his attention to the world of two wheels. The PLOT development team put enormous effort into a new type of suspension with a high level of torsional rigidity, and their persistent engineering lead to the successful creation of an exclusive suspension system for the Type 9: an innovative multi-arm suspension. With a normal swing-arm suspension, the rear wheel travels on the circumference of the arm's pivot, but with the multi-arm suspension, there are many pivot points, allowing the wheel to move outside of this tight orbit. The result is a more compact, clean, and responsive suspension with less limited wheel travel. With the multi-arm suspension, the Type 9 travels more smoothly, responding to the road more efficiently, even with heavy touring loads.


A quality, high-rigidity frame is essential to show off the Type 9's high performance suspension.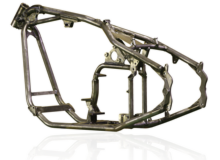 For most other motorcycles, a rigid frame actively uses its own flexibility to achieve a comfortable ride in conjunction with the suspension system, but too much flexibility can lead to the suspension system failing to operate in the way it was designed. In contrast, the special "Dragon Neck" frame for the Type 9i is an exclusive steel pipe gooseneck frame design which has been specially created to work in harmony with the unique multi-arm suspension system. With the Type 9i, the entire machine has good rigidity balance because the suspension and the frame have been crafted to work perfectly together.


PLOT engineers know the rules of motorcycle design, which is why you get springer forks like this.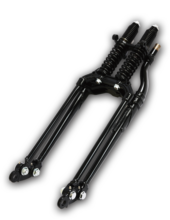 When it comes to springer forks, high levels of design accuracy improve how the bike grips the road when cornering and enhances braking stability dramatically. The same follows when it comes to the cycle's overall rigidity and durability. Expertly crafted for each Zero Engineering bike, these springer forks are produced to take into account all of the machine's specifications, such as the bike's weight and engine output. Product quality is always the priority, as is evident by the Minebea brand bearings, the same that are trusted by top F1 teams, which are integrated into the springer forks.


Appropriate resistance is achieved by combining a brass friction collar with a slide axis.

? European manufacturers use Minebea brand bearings for many dominant F1 teams.
| | |
| --- | --- |
| Specifications | JP Type9 |
| Model ID | PRC |
| Length | 2,425mm |
| Wheelbase | 795mm |
| Height | 935mm |
| Wheelbase | 1,689mm |
| Ground Clearance | 140mm |
Seat Height
636mm
Curb Weight
260kg
Seat Capacity
1


Engine Cert.

GDV

Engine Type

Air-cooled V-Twin OHV,
4 Valves per Cylinder


Displacement

1450 cc (88 cubic-inch)

Bore and Stroke

95.3mm×101.6mm
| | |
| --- | --- |
| Fuel System | Fuel Injection |
| Starter Type | Electric |
| Fuel Capacity | 10L |
| Transmission | HD 5 Speed |
| Rake (Caster Angle) | 38 |
| Tires / Front Specification | 4.50-18 |
| Tires / Rear Specification | 5.00-16 |
| Brakes / Front & Rear | Hydraulic Disc |
| | |
| --- | --- |
| Specifications | EU Type9 |
| Model ID | PRC |
| Length | 2,425mm |
| Wheelbase | 795mm |
| Height | 935mm |
| Wheelbase | 1,689mm |
| Ground Clearance | 140mm |
Seat Height
636mm
Curb Weight
260kg
Seat Capacity
1


Engine Cert.

GDV

Engine Type

Air-cooled V-Twin OHV,
4 Valves per Cylinder


Displacement

1450 cc (88 cubic-inch)

Bore and Stroke

95.3mm×101.6mm
| | |
| --- | --- |
| Fuel System | Fuel Injection |
| Starter Type | Electric |
| Fuel Capacity | 10L |
| Transmission | HD 5 Speed |
| Rake (Caster Angle) | 38 |
| Tires / Front Specification | 4.50-18 |
| Tires / Rear Specification | 5.00-16 |
| Brakes / Front & Rear | Hydraulic Disc |
| | |
| --- | --- |
| Specifications | US Type9 |
| Model ID | SRK |
| Length | 2,425mm |
| Wheelbase | 795mm |
| Height | 935mm |
| Wheelbase | 1,689mm |
| Ground Clearance | 140mm |
Seat Height
636mm
Curb Weight
260kg
Seat Capacity
1


Engine Type

Air-cooled V-Twin OHV,
4 Valves per Cylinder


Displacement

1570 cc

Fuel System

Carburetor
| | |
| --- | --- |
| Starter Type | Electric |
| Fuel Capacity | 10L |
| Transmission | HD 5 Speed |
| Rake (Caster Angle) | 38 |
| Tires / Front Specification | 4.50-18 |
| Tires / Rear Specification | 5.00-16 |
| Brakes / Front & Rear | Hydraulic Disc |
・All information presented herein is based on data available at the time of posting, is subject to change without notice.